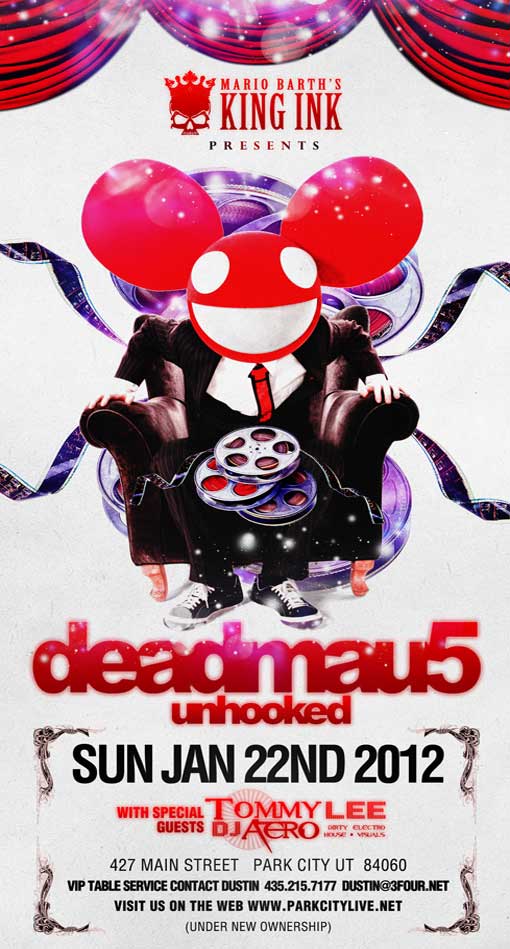 The first and second release of Deadmau5 tickets each sold out in 5 minutes – A NEW RECORD!!! THANKS TO THOSE WHO PURCHASED THEIR TICKETS!
Due to the incredible demand Deadmau5 has released his own private batch of tickets to his fans for the upcoming event on 1.22.12 @ Park City Live. These limited tickets will be available online to fans Monday 1.16.12 @ Noon MST
THIS IS THE FINAL BATCH. Don't miss seeing Deadmau5 at this intimate venue!
—-
SUNDANCE FILM FESTIVAL 2012!
KING INK Presents DEADMAU5 Unhooked w/ special guests TOMMY LEE & DJ AERO!
Known worldwide as an extraordinary producer, DJ and for wearing the signature mouse head. No need to give "Deadmau5" anmore of an introduction. We all know its an event not to miss!
– EVENT LOCATION: 427 Main Street "Formerly Known As HarryO's"
– ADDRESS: 427 Main Street Park City, UT 84060
– CONTACT: www.parkcitylive.net
VIP TABLE SERVICE CONTACT DUSTIN ESSON
– PHONE: 435-215-7177
– EMAIL: [email protected]
This is a 21+ event. Early arrival to the venue is encouraged.