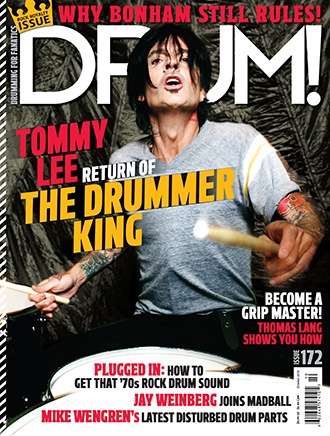 Whenever Mötley Crüe's drum king Tommy Lee releases a new solo album, DRUM! Magazine is there with all the latest news about rock's most notorious skinsman. You'll find him on the cover of the current October 2010 issue talking about A Public Disservice Announcement, the second installment from his decidedly un-metal Methods Of Mayhem side project, which runs the gamut from massive rock beats to pulsing techno thumps.
The album is a gauntlet thrown down on behalf of club culture's ecstatic, anything-goes vibe. That may seem bizarre coming from a metal drummer, but even in his hair-metal prime he was chafing against conventional performance. "When you realize all the drum solos and stunts that I have done, you see I have really been frustrated and really always wanted to be in front. Sitting back and playing drums, kicking it like this [mimics some schmo doing a plodding 4/4]. It's not me. It's just not. Come drum-solo time, I am going to fly over the audience. I am going to spin around upside-down. I am going to make a spectacle out of it. That's my personality. I don't do well with just sitting in the background."
How Lee will reproduce the dizzying variety of programmed drum patterns is still being worked out while his special kit gets built. In addition to guitarist Jay 3, the upcoming tour will feature live drummer Will Hunt (Evanescence; Black Label Society), who flew out from Orlando to record drum stems for two of A Public Disservice Announcement's tracks (see sidebar). "It's going be a kit that holds two guys, which I kind of did with the first Methods tour. I had a kit, [Jane's Addiction's] Stephen Perkins had one kit, but two guys sat between. But I'm going make this one a little bit different. This one is going have some more electronics in it as well, but to where Will can play, and I can jump in without switching drummers, because that's bulls__t. I have this vision of not just having a drummer in the center but this sort of 'heartbeat' of the stage. This nucleus where all the rhythm and electronics and music and stuff comes from. Sort of a laboratory."
These are just a handful of many juicy details Lee shares with readers in his new cover story. To read the rest of this riveting article, you can purchase a copy of the May issue of DRUM! Magazine at your local newsstand, drum shop, or online by going here.
To subscribe, click here.