February 17 – 20 Tommy Lee at Rock 'N' Roll Fantasy Camp Bahamas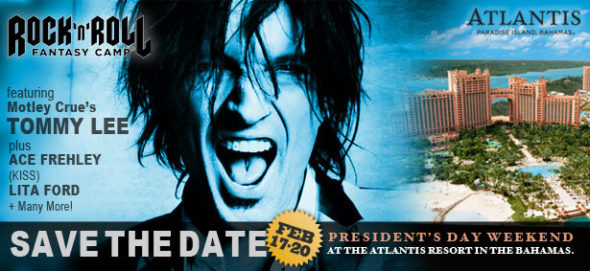 February 17 to February 20 at the world-famous Atlantis, Paradise Island in The Bahamas
for more info: http://www.rockcamp.com/rrfc_atlantis_2011.php
About Rock 'N' Roll Fantasy Camp
Rock 'n' Roll Fantasy Camp™ is the ultimate music experience. For the novice and the expert, the amateur and the aficionado, we make rock n' roll dreams come true. Simply stated, our mission is to bring people's musical fantasies to life!
Rock 'n' Roll Fantasy Camp™ is a one-of-a-kind event that brings music lovers of all levels together with rock 'n roll stars – and that brings those music lovers the unforgettable opportunity to move from spectator to a member of the band, sharing the stage, sharing the limelight with living legends.
As a participant in a Rock 'n' Roll Fantasy Camp™, you are treated like a rock star. You'll live the rock n' roll lifestyle day in and day out, learning or perfecting your knowledge of an instrument, practicing and jamming with your band mates and learning the ins and outs of the music business – all in the company of some of music's brightest stars.
Don't play an instrument? Don't worry! Hey, even Slash was new to the guitar at one point. Rock 'n' Roll Fantasy Camp™ welcomes musicians of all levels – from those who can riff with the best of them to those who've never touched an instrument. Depending on your skill level and interest, you may try picking up a Gibson guitar during your time at camp, or you may spend your time singing backup vocals or playing tambourine with the band. You'll also have the opportunity to partake in music business classes, which will give you an inside look at how the industry works.
Admit it…you've always wanted to be able to say, "I'm with the band" and mean it! Your chance to do just that is NOW!
Here's a sneak peek at what to expect at
Rock 'n' Roll Fantasy Camp™:
• Small group instruction from celebrity musicians
• Campers are placed in a band with a rock star counselor for the entire duration of camp. We place you in a band based on all of the information your provide upon registration – i.e. musical preferences, skill level, etc.
• Write and record an original song with your band!
• Perform live on stage to a sold out audience at a major rock venue
• Special guest and counselor-led master class sessions in drums, bass, guitar, songwriting, etc.
• A souvenir DVD of your performance at the grand finale concert
• Daily meals with celebrity musicians and campers
• Rehearsal time at professional rehearsal studios (you'll play where the stars play!)
• Plenty of opportunities for photos and autographs as guest stars walk through the camp all week (so be sure to bring your camera and sharpies!)
This entry was posted on Monday, November 15th, 2010 at 11:32 am and is filed under Uncategorized . You can follow any responses to this entry through the RSS 2.0 feed. You can leave a response, or trackback from your own site. You can leave a response, or trackback from your own site.