ROADRUNNER: TAKE A TOUR OF THE MUSEUM OF SEX WITH METHODS OF MAYHEM'S TOMMY LEE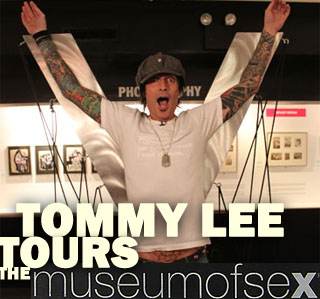 Having began his career in rock & roll at the ripe old age of 17, Methods of Mayhem mainman Tommy Lee has basically seen and done it all. But he's never been to New York City's famed Museum of Sex — until now. While the rock star was in town promoting the release of his long-awaited sophomore album for Methods, A Public Disservice Announcement, we took Lee on a tour to remember.
Boasting an eclectic mix of rock, metal and dance on the brand new album, with tracks like "All I Wanna Do" — which Tommy explains is, "Just nasty for the sake of being fun. You've got to have a good sex song on the record. If you don't you kind of suck right?" — we thought it nothing short of appropriate. So with the museum's curator Sarah Jacobs leading us through each wondrous exhibit, watch below as Tommy gets an impromptu sex education.
A Public Disservice Announcement is out NOW. Go right here to get your copy of the eclectic album in collaboration with the whole world. And go right here to learn more about it from Tommy himself.
Special thanks to the Museum of Sex for hosting us, and to DeMask for allowing the use of their 'Medical Play' footage.