Spin Magazine Exclusive: At Home with Tommy Lee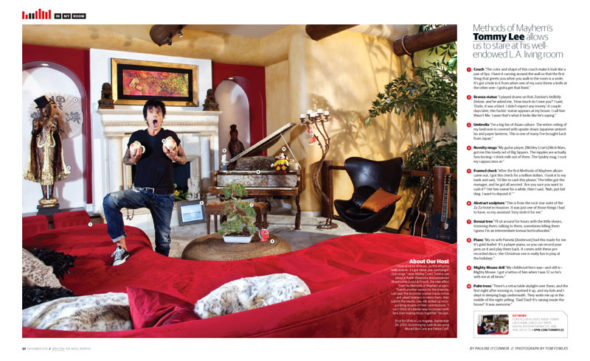 While we know we're not the first guest to cavort in Tommy Lee's L.A. playpen, we were more than chuffed to have the Methods of Mayhem frontman (and, of course, Motley Crue drummer) invite us inside for a tour. No, Tommy didn't show us his most famous possession, the one made famous by that video, he did reveal some of his most treasured items.
Among the goodies: a doll of his first hero, Mighty Mouse; a stolen abstract sculpture; a special gift from Rob Zombie; and two breast-shaped mugs through whose ceramic nipples Lee, 48, drinks milk, on occasion.
Click here for the full article and the video
Get the new Methods of Mayhem album "A Public Disservice Announcement" at iTunes, Amazon, Target Stores, Best Buy, Buy.com, Barnes & Noble, Borders, J&R Music, RoadRunner and everywhere!