Tommy Lee & DJ Aero: Holiday Groove 2012 – Hollywood, CA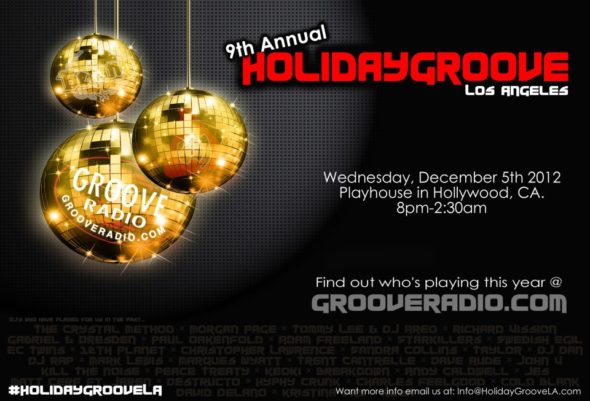 America's most acclaimed electronic dance internet radio station Groove Radio – will hold their 9th Annual DJ celebration "HOLIDAY GROOVE 2012" in association with ChemistryLA, Belong Clothing and Nytehype Entertainment.
This event will be benefiting The "Spark of Love" Toy Drive
Please bring an unwrapped Toy valued at $15 ore more or make a cash donation for admission.
Over 40 Celebrity DJs performing & Suprise Guests in 1 night ::Dj's who played Holiday Groove in the past:
The Crystal Method * Morgan Page * Paul Oakenfold
Tommy Lee & DJ Areo * Gabriel & Dresden * Dave Aude
12th Planet * Swedish Egil * Adam Freeland * EC Twins
StarKillers * Richard Vission * Static Revenger * Mr White
Christopher Lawrence * Sandra Collins * Taylor * DJ Dan
Kill the Noise * Peace Treaty * Destructo * DJ Reza
Marques Wyatt * Mark Lewis * Jes * DJ Rap * John V.
Andy Caldwell * Matt Cerf ft. Jaren * Mark Lewis * Keoki
Trent Cantrelle * Breakdown * Hyphy Crunk * Charles Feelgood
Cold Blank * David Delano * Kristina Sky * Jon Pegnato
Sam Hiller * Paul Ahi * Dirty Freqs * Suzie Del Vecchio * Simply Jeff
Fei Fei * Jason Blakemore * LAZRtag * Rocke and soooo many more…!!
★★ Find out who's playing this year on 11.26.12 ★★
_______________________________________________
BOTTLES & VIP SERVICE
Call: 323.656.4600 or email:
[email protected]
Doors open extra early at 8:00pm sharp to fit all the dj's.
Party goes till last djs recorded set of 3:00am.
2 rooms of music.
Early arrival is strongly suggested.
Conveniently located on the corner of Wilcox and Hollywood Blvd.
Attention Groove Massive! We are seeking audience members to attend the exclusive live taping of Holiday Groove 2012 – A Massive Year-End DJ Celebration. Click here for more info
video from last years event:

This entry was posted on Wednesday, November 14th, 2012 at 4:20 pm and is filed under Events, Tommy Lee & DJ Aero . You can follow any responses to this entry through the RSS 2.0 feed. You can leave a response, or trackback from your own site. You can skip to the end and leave a response. Pinging is currently not allowed.