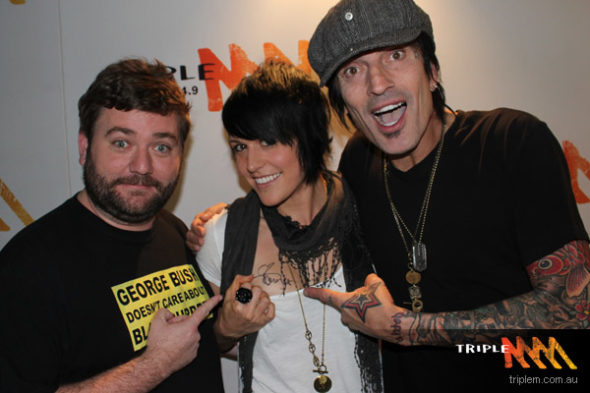 Methods Of Mayhem: The Video Interview!
Motley Crue's legendary drummer Tommy Lee's name is synonymous with sex, drugs and rock and roll.
However, Triple M's Rachel Corbett introduced Tommy Lee to a sex move even he hadn't even heard of.
See the (lightly) censored video below. The usually mild-mannered Rach said things too naughty for even the internet. Watch this space for more videos later this week!
Tommy Lee Gets Schooled On Sex By Rach (Censored)
Beyond crazy sexy talk, Tommy Lee also talked to Triple M's Paul and Rach about his risky new record, Methods Of Mayhem's Public Disservice Announcement.
"I wanted to do a record with the whole world," Tommy revealed. It was a momentous feat made possible by the internets.
Lee unleashed 13 songs he'd written and invited musos everywhere to contribute their parts, promising to use anything he thought rocked.
"Once a week, I would put up one track, and people would download the track, and do whatever the hell they wanted … no rules!" Tommy told Rach.
"I listened to almost 15,000 submissions," Tommy said of the tracks that flooded in from fans all over the world.
"We got a submission from Islamabad, I was like, dude, do not open that file! If you double-click on that, we're gonna get anthrax!" he joked.
"It's kind of like the dark street in my head that I've masterminded," Tommy said of the new album.
"In 2000, was my first solo effort, and it was called Methods Of Mayhem and the first one was laced with a bunch of guest stars. It was my first departure from Motley," Tommy continued.
"I was like, OK, I gotta do something different!" Tommy said. "Love Motley, but I really needed to go do some other stuff because I was creatively freaking out from playing the same songs over and over," Tommy told Paul and Rach.
"So I put together this crazy record with a ton of guest stars, Lil' Kim, Fred Durst, Kid Rock, WuTang Clan, George Clinton, the Crystal Method, it was this electronic, hybrid, free-for-all creatively," Tommy said.
"This time around, I didn't want to do all the guest stars," Tommy explained. "I really wanted to do something really different," he said.
Methods Of Mayhem's A Public Disservice Announcement is out now through Roadrunner Records.'