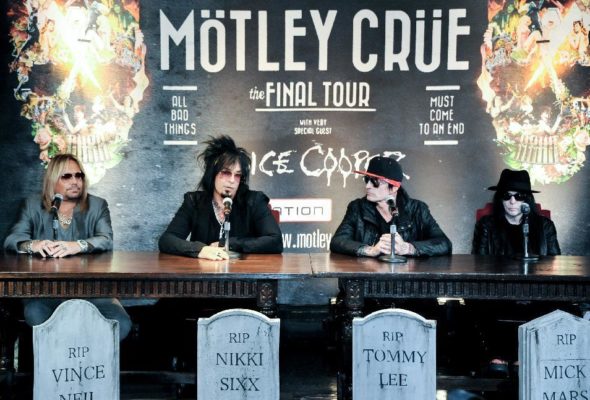 t's the end of an era: Tuesday, at a big press conference at Hollywood bacchanal Beacher's Madhouse, Mötley Crüe announced that — after several false alarms and semi-temporary hiatuses — they are officially calling it quits after upcoming 2014-2015 final tour.
These notorious live-wires are known for their tabloid exploits — rocky marriages, rehab stints, sex tapes, prison sentences, volatile break-ups and make-ups, accusations of devil-worship, paparazzi fistfights, and girls, girls, girls — all of which has become the stuff of legend. (Their "Behind The Music" rockumentary was the best of the VH1 series, and their book, "The Dirt," is the most compulsively readable rock 'n' roll tell-all of all time. For real.)
Some say that any publicity is good publicity, but in the case of the Crüe, all this unfortunately tends to detract attention from their music. We're hopeful the public's memory will be kickstarted by Mötley's farewell tour, but the band's Tommy Lee and Mick Mars recently ran through some of their favorite classic Crüe songs for Yahoo Music, as they reflect on their three decades of rocking on the wild side.
"Looks That Kill"
TOMMY: I just watched [the video] the other day, and I haven't seen it in a while. I was sitting there with my girl, and she had never seen it. She was like, "Oh my God, look at you guys! Look what you're wearing!" It's definitely time-stamped from a while ago. At the time, it was road-warrior-like; we would kick your ass. But we had makeup on and high heels.
It's so different to have been there doing that and then watching it back a week ago; it's just the craziest thing. You kind of just sit there in awe. In our stage of the game it was our big-budget video with set pieces, girls, dancers, fire … this was a big deal. I remember that; you're sitting and shooting the video and you're looking all around and there's a bunch of cameramen and a lot of people, and everything's starting to get a little crazier and crazier. I definitely remember walking in and going, "Wow, this is crazy." There are tunnels, spikes, gates, smoke machines everywhere, tracks with dollies. It wasn't fly-by-the-seat-of-our-pants productions anymore; it was starting to step up into making a real video here.
read the rest here: http://music.yahoo.com/blogs/music-news/cr%C3%BCesing-m%C3%B6tley-discography-tommy-lee-mick-mars-201350532.html
http://www.youtube.com/watch?v=FToyVkqPW7Y