By: Steve Baltin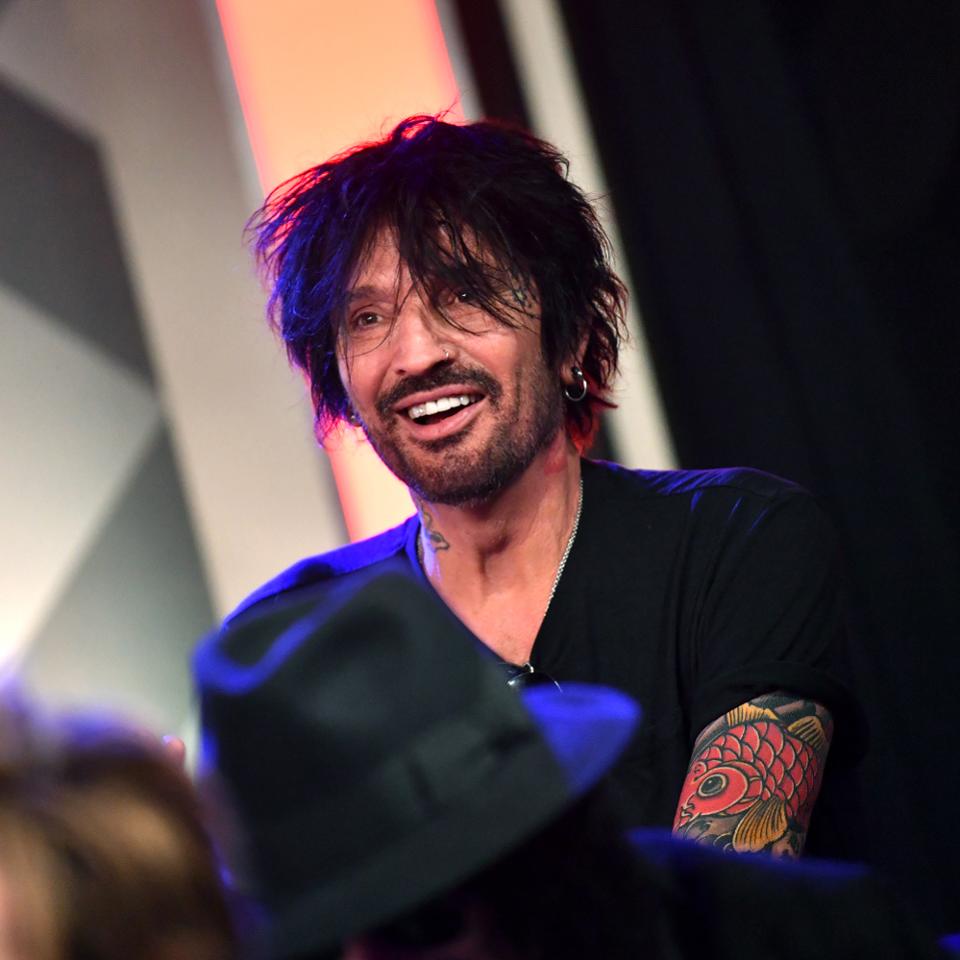 Motley Crue drummer Tommy Lee releases two new singles, "Tops" and "Knock Me Down," from his forthcoming solo album, Andro, today (June 5, 2020). The fact that Lee has an upcoming album, out October 16, when he was supposed to be on the road with Crue playing stadiums this summer (with Def Leppard, Poison and Joan Jett) surprises him as much as anyone.
As Lee told me when we spoke recently after Crue finished their farewell tour in 2016, which he really believed was it, he wanted to do nothing musically. As he jokes of his 2017, "I had my own quarantine."
But here he finds himself in the midst of what could turn out to be a very prolific time. And he is living the best of both worlds getting to work with Crue in their first-ever stadium tour and a variety of guests vocalists on the impressive Andro, a record that excites Lee because of the way he captured both male and female energy with vocalists like Push Push ("Tops") and Killvein ("Knock Me Down") as well as Mickey Avalon, Buckcherry's Josh Todd and more.
I spoke with Lee for nearly an hour recently about the making of Andro, his ideas for playing the record live, the Crue stadium tour and why the response to that tour left even him stunned and doing back flips.
Baltin: Of course no one could have predicted all of this, the pandemic and protests. But did you even know there was going to be a Motley Crue reunion when you started working on this record?
Lee: I had no idea. When the Motley tour finished it was New Year's Eve 2016. I was like, "I'm taking a year off. I don't want to do anything musical. I want to stay home and enjoy my home that I'm never at ever. So I'm just gonna stay home, trip out, float around in the pool, barbecue and just do nothing." And I did that. My friends were like, "There is no way you're going to sit around for a year and not do music or anything like that." I'm like, "Watch me." And I did, I pulled it off. Then a little over a year and a half later I was like, "Here it goes, all the ideas." I just started coming down in the studio and putting ideas down and before you know it I was two years into this project that turned into a f**king amazing body of work.
Baltin: Did having the time off really invigorate you when it came time to make Andro?
Lee: Totally, I knew when the Motley tour was over we were never playing again, this was just a free for all. I was just writing to write for the love. And I actually wasn't even working on an album. I was just like, "I'm just gonna make some music." Because I write music for other people, I do remixes for other people, play drums on other people's records and I always have ideas. So I came down here and I was just having a f**king blast. So I love that, when a blast turns into an actual thing. I think when it's organic that way that's when it gets good.
Baltin: When did you know Andro would become an album?
Lee: I didn't really think about it until I was like, "I have like 15 songs here." And it started to feel like something. I started to think in my mind, "This could be this really dope record." I started sequencing it, listening down to the way I think it sounds cool, the vibe, right? It was a little all over the place, which I like. Eclectically, style wise I like that, going track to track to track. There's nothing f**king worse than hearing a record that sounds the same from the first track to the last track. I hate that. So I'm listening to it and it's still not quite jibing with me and I went, "Hold up a second. There are just as many male energetic songs on this record as there are female. Why don't I just put them in their own space?" And as soon as I did that I freaked out because I was like, "Oh man, this really works because it's all this kind of vibe." It's got its male energy, that testosterone, it's like that. But then the female side has that same energy cause there are some aggressive female stuff, some beautiful stuff. And as soon as I split them apart I was like, "That's it." And I don't think anybody has ever done that with a record. If they have I apologize but I don't think that's been done. And I get really stoked about doing s**t hopefully nobody's ever done before.
Continue Reading: https://forbes.com